Organised by: FabLab Devon
Date: Sat 7th August 2021
Time: 10:00 to 14:00
Location: Barnstaple Library, Barnstaple
---
Customise the cover of your own lockable mini laser cut keepsake book box.
The Lost Librarians experience on display from August 7th until August 18th at Barnstaple Library and you are invited to solve the mystery. A groundbreaking escape room using interactive mechanical books to uncover a fantastical tale of the last known witches in the UK and the legacy that they have left behind.
We at Barnstaple FabLab thought that if you enjoyed Lost Librarians you may want to create your own so we're running some amazing workshops offering you the chance to have a beautiful laser cut mini book box.
During the workshop you will design the book cover and have it laser cut ready for assembly. The 1st workshop runs from 10am - 11:30am and the 2nd from 12:30pm - 2pm. The workshops will be quite small and suitable for ages 8+, so book soon in order to secure a place. Booking ends 4th August.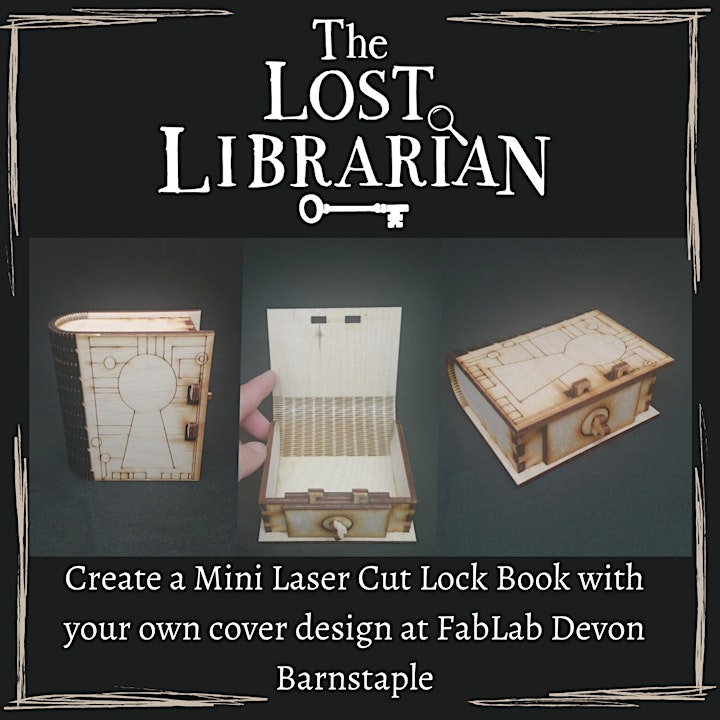 ---